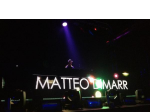 M1
Matteo DiMarr has been quietly making musical waves for a number of years, without much of a song and dance. He is a true underground house visionary, who makes and releases music on his own terms. Not interested in fame, fortune or musical compromise, Matteo DiMarr has carved his own niche, creating powerful dancefloor bound records. The Toronto based producer is a reclusive music maker, who doesn't do interviews or play the publicity game, but prefers to let his music do the talking. He has refused to tour as a DJ up until 2008, despite countless opportunities due to the success of his music. Since the early 90s, DiMarr has put out a large number of 12"s, downloads and remixes. In order to keep his listeners guessing, he has released his records under a perplexing number of pseudonyms during his career, the most common being M1.
As with many electronic music producers, Matteo DiMarr started his musical career as a DJ, spinning hip hop in the mid 80s. After a few years of 'mixology', battling and creating his own hip hop cuts, he was crowned Toronto's Best DJ in 1989. However, instead of sticking with life as a 'mixologist', DiMarr ventured into housier waters, releasing his first 12" on the influential NY based Emotive Records in 1991 as M1. The track in question was called Feel The Drums, which became an underground house hit. DiMarr went on to release a number of tracks for the New York label, such as Dynomite! and Reach For The Stars. In 1993, DiMarr started the Jinxx Records label with Shams Tharani and he acted as label manager. The imprint was an outlet for his productions, collaborations with Tharani and efforts by other house heroes. In their nine-year history, Jinxx released 43 singles, with 12's appearing from the likes of DJ Sneak, Nick Holder, Santos, David Duriez and Paul Jacobs. Releases on the label also featured heavyweight remixes from the likes of Oscar G, Roger Sanchez and Les Rythmes Digitales. 1998 saw the release of M1's Electronic Funk on Jinxx, a powerful house record that saw DiMarr gain national success, with the record going to number one in the Canadian dance music club charts.
The record has been his most successful release to date and was also an international hit. For the UK release of Electronic Funk in 2000, Roger Sanchez and Kaje remixed the record. The remixes also hit the top spot in the Canadian dance music club charts. In 2004, Matteo DiMarr started the Reinvent Music label, which debuted with his startling Freak The Frequency, released under his M1 guise. A handful of vinyl releases from Red Carpet and DiMarr under different names have followed. 2005 saw the release of M1's Robopop album on Reinvent Music/Universal. The album was nominated for the dance music recording of the year Juno Award, the Canadian equivalent of a Grammy. Reinvent Music has since gone digital, releasing cuts by House Music United, Kaje and M1, with remixes appearing from the likes of Hatiras and Antoine Clamaran. There have been over 15 releases on the label since its inception in 2005. Yes We Can from House Music United charted at number 2 in terms of overall downloads at popular house music download site Beatport. The digital only MAR186 label was brought to life in 2006 and has been run in tandem with Reinvent Music. MAR186 has seen releases from the likes of Mark Mendes, DJ Steep and DJ Rage, as well as a hefty dose of M1 releases.
This imprint has been more prolific than Reinvent Music, chalking up over 35 releases between 2006 and 2008. Over the years, Matteo DiMarr has put out records on labels such as Stickman, DNH, Brique Rouge, Honchos Groovalicious and Universal. The releases on DNH and Stickman and the development of his own labels underline ties with other Canadian house producers and commitment to the furthering of the genre. M1 has been Matteo DiMarr's most prolific moniker in terms of number of releases and the acclaim that he has gained for records such as Electronic Funk. The last five M1 singles have charted in the Top 20 in Canada, with two of these releases going to number one. DiMarr has recorded under a large number of other names during his lengthy career, such as Insomnia, M One, Matthuas, Neon Lights, Matthaus, Dirty Gringo, House Builder, Matteo DiMarr, Manmachine, FPS and House Music United. He has completed close to fifty remixes, for records such as The Bucketheads' The Bomb, Bel Amour's Bel Amour, Gloria Gaynor's I Will Survive and Soul Grabber's Part 3. Away from house music, DiMarr has created music for various other outlets. His work has been used in commercials for companies such as Budweiser, Ford, Nivea and Trojan. DiMarr's music has also appeared in film and TV, used by the likes of Spike Lee, Big City Films, Alliance Atlantis and The Food Network. Following on from this extra curricular activity, Matteo DiMarr will complete his first film score in 2008. 2008 is an exciting year for Matteo DiMarr, which will see him embark on his first DJ tour as well as continuing his monthly residency at Luxy in Toronto. His current record labels, MAR186 and Reinvent Music, are going from strength to strength, with various releases in the pipeline. He currently records as M1, FPS, House Music United and Matteo DiMarr. Still going strong after seventeen years as a producer, his longevity must in part be down to his refusal to compromise in relation to house music. His decision to stick to releasing music on his own terms has helped him to stand firm as a producer and record label owner, when many others have fallen by the wayside.
27/01/2014
Go back!